Concrete
As a full service concrete contractor, we offer services in the following areas:
Concrete Slabs

Foundation Work

Concrete Removal and Replacement

Driveway and Driveway Apron

Sidewalk and Patio

Stairs and Steps

Retaining Walls

Concrete Block Work

Kiva Fireplaces

Stamped and Colorized Concrete

Acid Stained Concrete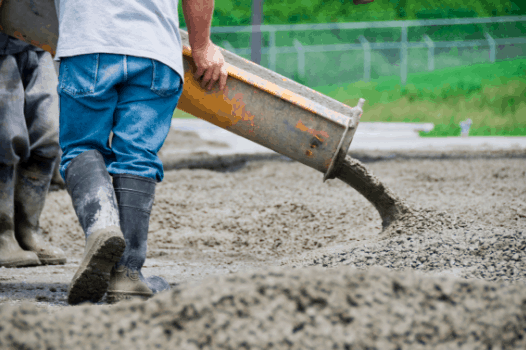 Our Commitment to Quality
All concrete is not the same, the installation and product standards used by Marsh Construction are among the top in the industry. For example, consider the driveway. Not only is it responsible for holding up against several tons of vehicular metal and rubber, but it also has to endure storms and those blistering Albuquerque summer days. Plus, since your driveway is one of the first parts of your property that visitors experience, it should have an attractive, clean appearance that complements the exterior of your home.
That's a lot to ask of a driveway, but Marsh Construction can create one that does it all. First, the commercial-grade concrete we use is over 4 inches thick, reinforced with fiber and rebar, and has a rating of 4000 psi (the same as an airport runway). Second, concrete requires virtually no maintenance, and it doesn't soften when temperatures rise, meaning no more oily black tar stuck to your tires and shoes. And third, we offer a variety of colors, textures, and patterns for your driveway—so if you're not a fan of plain gray, don't worry, you have options.
Our commitment to quality continues with your patios and sidewalks. We know that your patio is a perfect gathering place to catch up with family and friends. Since it's such a central feature of your outdoor living space, it's natural to want your patio to be aesthetically appealing, but it's also important that it's built to last a long time and hold up against the elements.
At Marsh Construction we offer patio solutions that are attractive, practical, and affordable. We use the finest quality materials installed by licensed and insured experts with over 20 years experience. While your friends are pulling weeds from between bricks and readjusting uneven pavers, you'll be resting easy.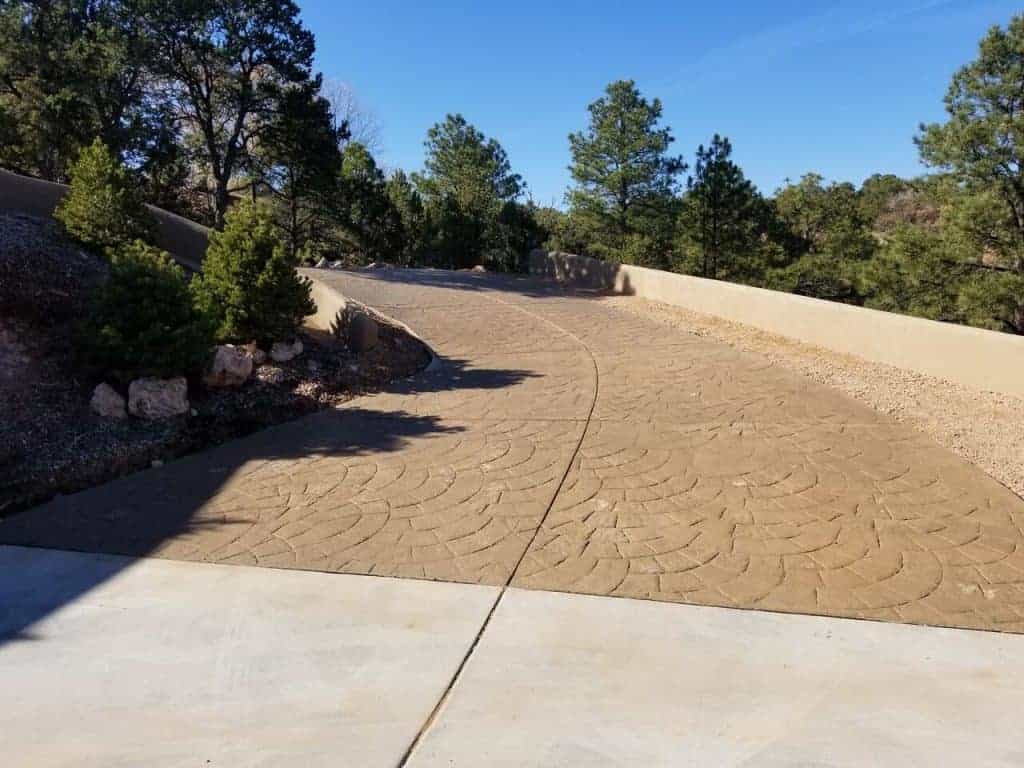 Stamped Concrete
When you think of concrete, if your mind can only visualize the color gray then we have a real surprise in store for you. Consider stamped concrete, the perfect alternative for Albuquerque homeowners who want to add an elegant and timeless feel to their home.
We can introduce a variety of colors and patterns, as an accent or for a complete area. Many people will create a beautiful and pleasing to the eye driveway apron to contrast with the main area. Others like to have a contrasting edge to patios, or the full patio in stamped concrete.
Whatever your design desires, at Marsh Construction we can make them come alive.
What Exactly is Concrete?
What we generically refer to as concrete is actually called Portland Cement. Is was created by bricklayer Joseph Aspdin of Leeds, England in the 19th century by burning powdered limestone and clay in his kitchen stove. By this crude method he laid the foundation for an industry which annually processes literally mountains of limestone, clay, cement rock, and other materials into a powder so fine it will pass through a sieve capable of holding water. Cement is so fine that one pound of cement contains 150 billion grains.
Portland cement is a closely controlled chemical combination of calcium, silicon, aluminum, iron and small amounts of other ingredients to which gypsum is added in the final grinding process to  regulate the setting time of the concrete. Lime and silica make up about 85% of the mass. Common among the materials used in its manufacture are limestone, shells, and chalk or marl combined with shale, clay, slate or blast furnace slag, silica sand, and iron ore.
Each step in manufacture of Portland cement is checked by frequent chemical and physical tests in plant laboratories. The finished product is also analyzed and tested to ensure that it complies with all specifications.
As you might expect, Portland cement comes in several quality tiers, designed for different applications. At Marsh Construction we will always select the grade of raw material that will best meet the specifications of your project, while working within your budget. You can rely on our expert team to advise you on the best solution for your home or commercial property.